When N. — a Mexican-American Muslim living in Texas — voted in the her state's presidential primary on March 1, 2016, she did something she had never done before.
She voted for a Democrat.
N., a registered Republican who prefers to use her first initial to preserve her identity, said that given all the twists and turns the presidential election has taken so far, Democratic Sen. Bernie Sanders from Vermont was her only option.
"This election has completely changed my views and the integrity that I used to feel that the Republican Party had," she said. "The circus has taken over, and it doesn't seem as serious as it once was."
When Kristina Hernandez goes to vote in the New Jersey primary on June 7, and the presidential election in November, she will be thinking about her 1-year-old daughter, Asiya. Like any mother, she worries about her child's health, her education, her safety and her future.
To mitigate these fears, Hernandez — a 33-year-old Muslim of Puerto Rican descent — plans to vote for Sanders.
"I think about my daughter, and I think about the world she's going to be in," Hernandez said. "I think there's certain things I want her to have, even if I can't provide them for her financially. I want her to have health care, I want her to have an education, and I think someone like Bernie Sanders would make that possible."
Nathalia Saldariagga, a 28-year-old Muslim who immigrated to the United States from Colombia in 1997 at age 9, is also concerned about her children. Although she's protected by the Deferred Action for Childhood Arrivals, or DACA — which allows certain undocumented immigrants who entered the country before June 2007 and before they turned 16 to receive a renewable two-year work permit and exemption from deportation — she worries about each candidate's immigration policies.
Saldarriagga doesn't want to be separated from her  children, ages 5, 3 and 10 months, because of her lack of citizenship. She can't vote, but she supports Sanders as well.
"[Bernie Sanders] and Hillary [Clinton], both of them are trying really hard to find a solution to the immigration problem," she said. "Like right now, if you're trying to get Spanish people to vote, I think whoever is willing to give Spanish people papers and make them legal in some way, that's the one who's gonna win."
N., Hernandez and Saldariagga are just three of an estimated 250,000 Latino Muslims living in the United States, and their liking for Sanders reflects their individual preferences, not those of Latino Muslims in general. In fact, likely Hispanic voters overall appear to prefer former Secretary of State Hillary Clinton, according to polls.
Polls also suggest that the Republican Party's avowed effort to attract Hispanic voters to their 2016 nominee isn't working.
Latino Muslims are a minority within two minorities. But as members of the fastest-growing ethnic and religious minority groups in the country, N., Hernandez and Saldariagga have heard a great deal of both xenophobic and Islamophobic rhetoric during this election season, mainly from Republican presidential candidate Donald Trump and his supporters and from other Republican candidates as well.
Trump, a billionaire businessman and former reality television star, started off his presidential campaign with comments about Latin Americans that many people considered offensive.
"The U.S. has become a dumping ground for everybody else's problems. … When Mexico sends its people, they're not sending their best," Trump said at his campaign announcement in New York on June 16, 2015. "They're sending people that have lots of problems, and they're bringing those problems with us. They're bringing drugs. They're bringing crime. They're rapists. And some, I assume, are good people … It's coming from more than Mexico. It's coming from all over South and Latin America, and it's coming probably — probably — from the Middle East."
In November 2015, Trump claimed that he saw Muslims in Jersey City, New Jersey cheering as the World Trade Center collapsed on September 11, 2001. He also proposed a ban on all Muslim immigration to the U.S. following the terrorist attack in San Bernardino, California in December.
"Where this hatred comes from and why we will have to determine," Trump said in a campaign news release. "Until we are able to determine and understand this problem and the dangerous threat it poses, our country cannot be the victims of horrendous attacks by people that believe only in jihad, and have no sense of reason or respect for human life."
 In 2014, the United States Census Bureau estimated that there were 55 million Hispanics living in the U.S., making Hispanics the nation's largest minority.
There are approximately 3.3 million Muslims living in the United States, making up 1 percent of the population, according to the Pew Research Center. About 6 percent of these Muslims might be Hispanic, according to Alexa Bankert, a Ph.D. candidate at Stony Brook University who studies how identity factors into political behavior. Bankert earned her bachelors of arts in Political Science at Freie Universitaet Berlin before immigrating to the United States.
To date, no formal studies regarding Latino Muslim voting patterns have been conducted because the group is so small and, therefore, difficult to study. Bankert said that although a voter's identity is an extremely good predictor of vote choice, how voters see themselves can be tough for political scientists and polling experts to pinpoint.
"People generally have to choose to justify and identify with their specific demographic group for this identity to be predictive of their vote choice," Bankert said. "It's a very difficult concept to measure, and we actually have to ask people to what extent do they identify with that group. Once we know that, and we know the strength of that identity, we can make very, very good predictions about people's voting decisions."
A voter with dual identities, one who identifies with more than one group, can make predicting voter choice even more complex.
For example, not all U.S. residents of Hispanic descent see their primary identity as Latino, Bankert said.
"Maybe they consider themselves more as an American, or more as a woman or as a mother," she explained. "It's really, really tough to just say 'all Latinos care about this,' it's just not true because there's always going to be an intersection between race and gender and income and education and based on where you're at in the life cycle."
In a recent survey of the Hispanic electorate by The Washington Post and Univision News, 57 percent of respondents said they would vote for Clinton over Sanders in a Democratic primary. While 67 percent said they have a "totally favorable" opinion of her, 73 percent said they would vote for Clinton in a general election between her and Trump.
Bankert said the Latino support for Clinton dates back to her outreach efforts in the 1970s.
"Hillary Clinton has been establishing relationships with the Latino community for decades," she said. "This goes back to 1972 when she was canvassing Texas with her then-boyfriend Bill Clinton to basically register Hispanic voters. So she's really been active in this community. Whereas Bernie Sanders, if you think about it, he represents one of the whitest states in the Union."
In the same survey, only 28 percent of respondents said they would vote for the Vermont senator in a primary. Though 72 percent said they would vote for him in a general election against Donald Trump, just 57 percent would vote for him instead of Marco Rubio, the Republican senator from Florida who dropped out of the presidential race in March.
Given that Sanders does represent one of the whitest states in the U.S., he lacks the experience in appealing to minorities. At a rally in North Las Vegas, Nevada with a largely Latino audience in November, Sanders called himself "some guy you've never heard of," according to The Washington Post.
"The fact that he assumes that the Latino community has probably never heard of him, that's indicative of the relationship between Bernie Sanders and the minority community," Bankert said. "I think he will have a tough time actually rallying that support."
On April 6, a particularly windy and frigid afternoon on April 6, 66-year-old Jim MacDonald and his 27-year-old daughter, Sarah MacDonald, from Flushing, New York, were bundled up in winter jackets. The Flushing residents were joined by hundreds of other people on the corner of Hazel Street and South Oyster Bay Road in Bethpage, New York, who were excitedly waiting to board a chartered bus to take them to Grumman Studios. They were all on their way to Trump's first rally on Long Island, two weeks before the state primary.
The MacDonalds battled the wind as they unfurl their a white poster that had just three words on it: "BUILD THE WALL."
"In my mind, illegal immigration is the biggest issue," Jim MacDonald said as he tried to keep his oak-tag poster under control. "You can't have a country without a border. Donald Trump is the first candidate to recognize this. The other Republican candidates reluctantly followed him. Trump convinces me that he truly will build a wall to keep more illegals out, and he will also get rid of the 30 million illegals in the country."
As the line to board the bus continued to grow, Trump's Long Island supporters started to mingle. At the same time, Trump protesters also arrived and unrolled their own posters. Pat Young from the Long Island Progressive Coalition, which organized the protest, is held a sign that reads "Immigrants make America great! Dump Trump!"
Young held the poster proudly while facing the line of people congregated next to the bus. One Trump supporter began to viciously chant, "Build the wall, build the wall," looking directly at Young.
Last summer, Univision commissioned a poll to survey the Hispanic electorate on the presidential election. Asked which issues would be most important in deciding a vote, Hispanics ranked the nation's economy, education, and health care above immigration.
However, in the joint Washington Post-Univision poll from February,  immigration had become the second most important issue to Hispanics, after the economy.
To Hernandez, the issue of immigration is not as important to her as health care. However, she said, it's still a deciding factor in her voting process.
"It's an assumption that we all care about immigration, but we're not all immigrants. Puerto Rico, where I'm from, is a part of the United States," she said. "I think it's just a human rights issue. I don't think it has to do with my Latino identity. I really have strong social justice leanings and I'm an advocate for human rights so I think that's really what my immigration thing is about, not so much my Latino identity."
N. echoed the sentiment.
"Immigration is not my issue," she said. "I don't have health insurance. To be a U.S. citizen in the country that everybody is wishing to come to and not be able to afford health insurance—the system is completely broken."
But for 24-year-old political science major Alan Rivera, a Mexican-American Muslim student at Stony Brook, the issue of immigration is still important to him even though he can't vote because he isn't a U.S. citizen. Rivera, who converted to Islam after his Turkish stepfather introduced him to the religion, said that he does has personal ties to the issue because some of his family members lack citizenship.
"I'd like to see everyone get legalized, especially people who came here, leaving a bad situation in another country, so I don't see any reason to prevent them," Rivera said. "Especially if they've lived here for a long time and they're accustomed to everything, there's no reason they should have to worry about working legally or about getting deported at any moment."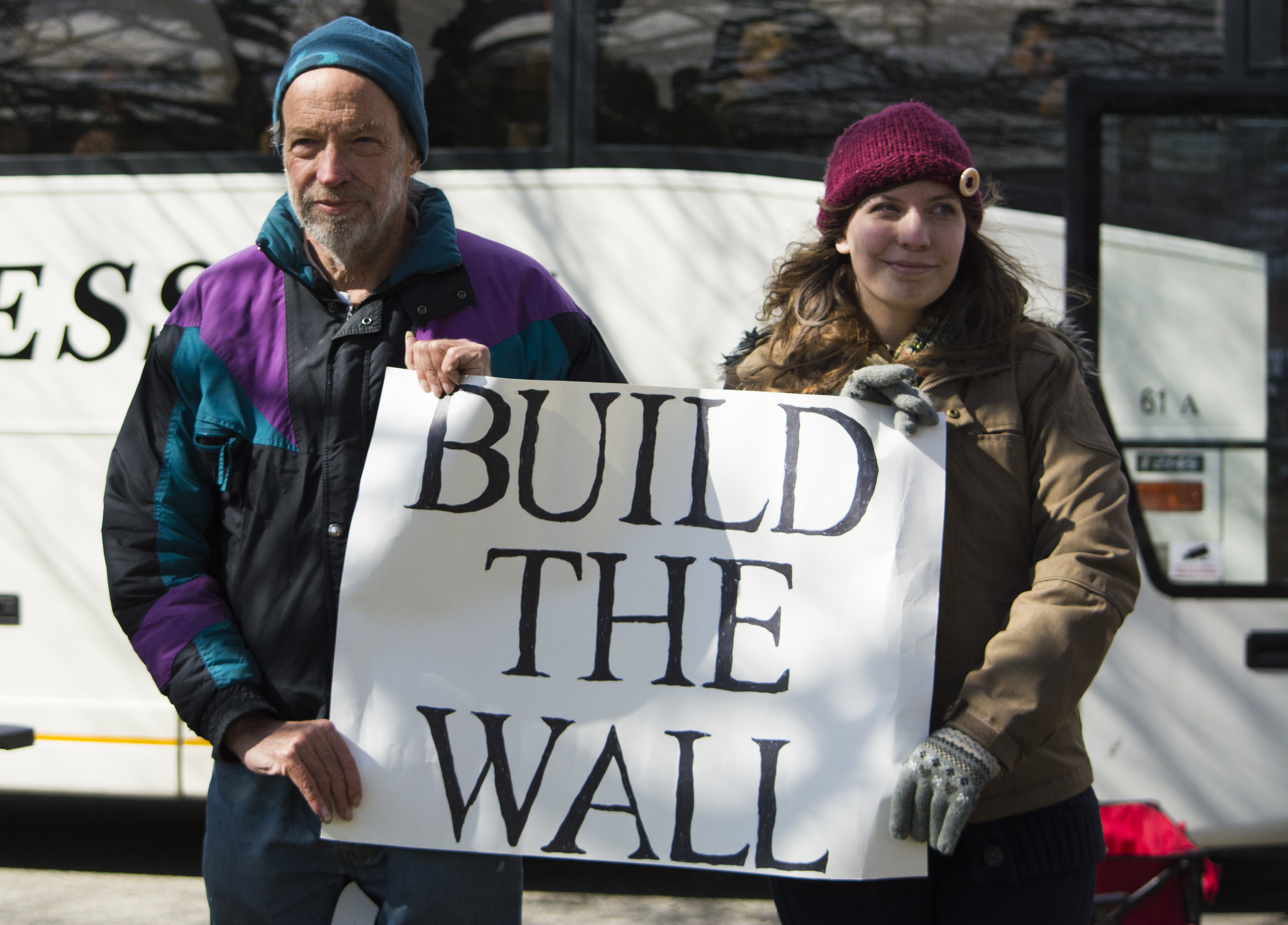 Jim MacDonald, left, and his daughter Sarah MacDonald, right, hold a poster supporting Republican presidential candidate Donald Trump's idea of building a wall to stop illegal immigration on Wednesday, April 6, 2016 at Trump's rally in Bethpage, N.Y. Photo by Hanaa' Tameez.
The changing political landscape of the United States
In a poll conducted by the Council on American Islamic Relations, or CAIR, 24 percent of Muslim voters ranked the rise of Islamophobia in the United States as their highest concern.
Data from two 2015 YouGov.com polls shows that Americans generally have an unfavorable opinion of Islam. In March 2015, prior to Trump's campaign announcement, 44 percent of Republican respondents said they held a very unfavorable opinion of Islam. This number increased to 53 percent in the December 2015 poll which was conducted three days after the San Bernardino attack. Unfavorability also increased within Northeast respondents. In March, 24 percent of respondents held an unfavorable opinion of the religion and jumped to 35 percent in December.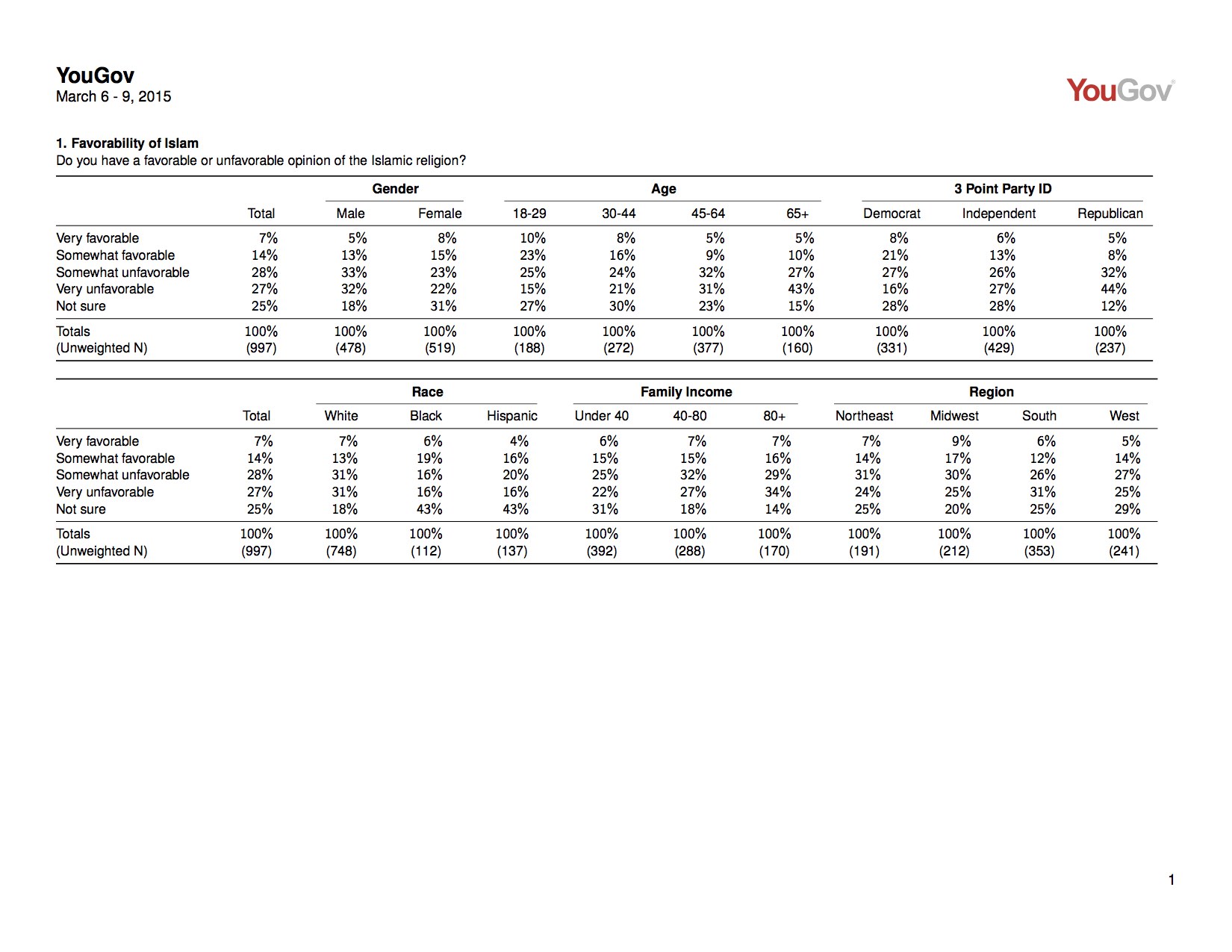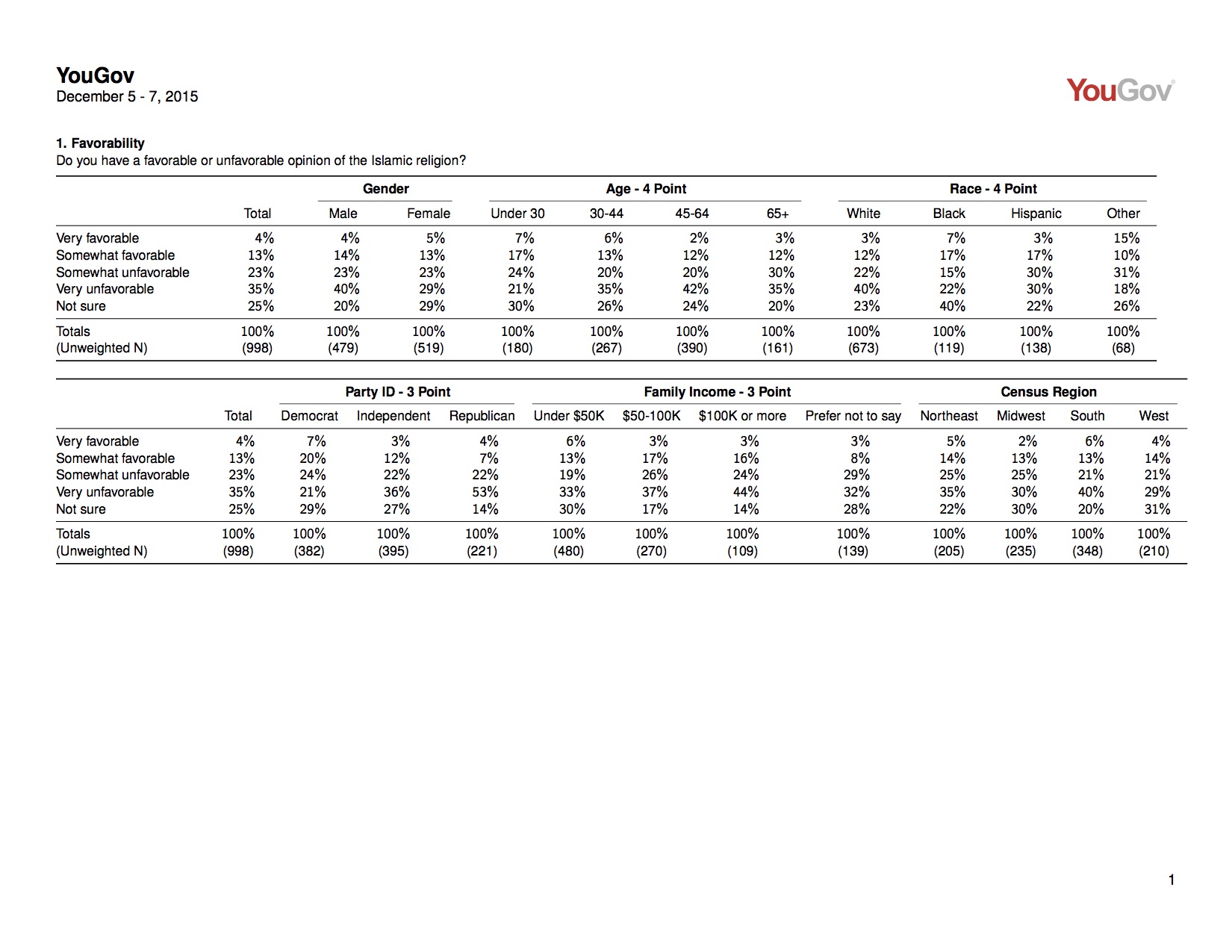 The rise of Islamophobia in the U.S. is a two-fold issue. Wilfredo Amr Ruiz, a Puerto Rican-Muslim civil rights attorney who also works as legal counsel to CAIR – Florida, said that part of its rise comes from politicians preying on manipulating their constituents.
"They're saying, 'If you're not doing well economically, it's because of all these immigrants. If you have criminality, it's because of all these immigrants. If you have terrorism and extremism, it's because of the immigrants and because of the Muslims,'" Ruiz said. "They know what are the people's fears … and they can make a lot of monsters responsible for a lot of those fears. [And they say,] 'I can represent myself as the superheroes that's going to fight those monsters.' This is their strategy. It's very savvy. It's cruel, but it's politically savvy."
The increase in Islamophobia also stems from the public's agreement to the political discourse throughout the campaign cycle, Bankert said.
"Some of [Trump's supporters] feel betrayed by their government, and this anger then translates into support for someone who offers very easy solutions," Bankert said. "Everything seems so easy to solve, and that resonates with a lot of people, especially those who find the entire political process so complicated. He really offers these people a chance to feel engaged in the political process because these people have been apathetic."
However, angry conservative Americans are not the only groups that are motivated by this campaign season. According to The New York Times, the number of naturalization applications has increased 14 percent from June 2015 to January 2016, when Trump started campaigning. The United States Citizenship and Immigration Services, the agency that handles naturalizations, said that it expects one million applications in 2016, which is 200,000 more than the annual average.
"I think it's awesome. I think it's kind of like a wake- up call," N. said about the surge in Mexicans registering to vote. "We have power. The vote is power. It's empowering our Mexican [community], and I guess they understand that voting is the way to tackle some of these issues. I applaud them."
Ruiz described Trump's following as a silenced minority that quietly rejected civil rights advancements in the political arena.
"This is Trump's rhetoric, 'let's make America great again,'that's principally appealing to people to go to the past. Which past?…Which America? The one in the 60s [without] civil rights? He's appealing to a past that some people in this nation put behind but he wants to recall it. You will see those people now being empowered because they were disenfranchised and now they'll probably say they have someone who's speaking openly and bluntly."
What's more concerning to Hernandez and Saldariagga is the support candidates receive after making xenophobic and Islamophobic remarks. Hernandez said she thinks that support for Trump signals disapproval of a shift toward equality in American politics.
"I think [people] are trying to maintain their privilege. Like straight up, that's just what it is," Hernandez said. "They're seeing that this country's changing, and, I think, for people who have been the majority for so long and who have benefitted from this system, it's kind of intimidating for them to see people of color becoming the majority and having political power."
For Saldariagga, Trump's success shows her that the U.S. has not made so many strides since she arrived in the country in 1997.
"The fact that Donald Trump keeps winning all these states, it scares me because at the end of the day, it's the people who have the power to pick the president," she said. "If most of the people think like that, then America is resentful. The truth is going to come through, and that's what this is telling us. The United States is still a very racist country."
In the face of adversity, Latinos, Muslims and Latino Muslims must take advantage of their right to vote, N. said.
"Our religion tells us that we need to respect the land, respect the law and, by the same token, we need to empower ourselves with whatever resources are given to us," she said. "And voting is one of the resources we have for ourselves to [get] our needs taken care of."